Reflective Leadership Coaching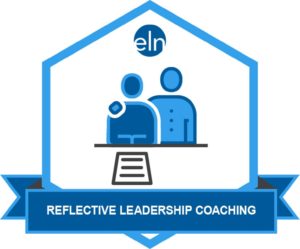 Professional Development Credit – Successful completion of the Micro-Credential will provide 9 hours of professional development credit for Illinois learners.
Overview – Reflective Leadership Coaching involves collegial, coaching conversations in which the practitioner leads the educational leader through a process cycle of reflecting and analyzing his or her leadership practices, decision-making, problem-solving, and planning skills. While coaching, the practitioner provides probing, high-level, self-reflective questions to challenge the educational leader's thinking, stimulate growth, and lead to actionable improvements. This approach and coaching role are different from the Collaborative or Directive Leadership Coaching approaches.
Essential Outcomes – Reflective Leadership Coaching includes the following four identified essential outcomes:
1. Engage in a collegial, trusting, reflective relationship to address and analyze leadership issues or initiatives.
2. Communicate collaboratively and provide reflective, probing, high-level questions during outcome-based conversations.
3. Engage in evidence-based communication and actionable feedback that guide the educational leader through a reflective process.
4. Provide support for improved performance through goal setting and action planning.
Requirements
Part 1. Overview Questions – Create a responsive narrative that answers the following questions(1000 word response limit):
a. Describe the strategies you use during collaborative, reflective conversations with a school leader that build and further preserve trusting relationships while addressing leadership issues or initiatives.
b. What dialogue and questioning strategies do you use to ensure a reflective, outcomes-based conversation with an educational leader?
c. How have you prepared for and provided actionable, evidence-based feedback during a reflective coaching conversation?
d. What strategies do you incorporate with an educational leader to ensure regular follow-up, so they might reflect on what worked, what could have worked better, and proposed changes?
Part 2. Skill Demonstration Product – A 10-15 minutes video of you coaching an educational leader that captures the essential outcomes for Reflective Leadership Coaching. The video should allow the assessor to see both you and the individual you are coaching so that both verbal and non-verbal language is audible and visible.
Part 3. Self-Analysis of the Skill Demonstration Product – A written analysis of your video artifact to self-assess the inclusion of the essential outcomes of reflective leadership coaching. Use a scripting technique or narrative summary to demonstrate to the assessor how you have shown evidence of ALL essential outcomes. You may download the Self-Analysis template from the course platform.
Part 4. Reflection & Application (500-word minimum) – Submit in writing a summary of your experience of reflective leadership coaching to highlight and provide specific examples of how you specifically applied the four components of Reflective Leadership Coaching. This could include topics covered and how you supported the school leader and worked collaboratively to develop a plan to improve.