Leading Data Literacy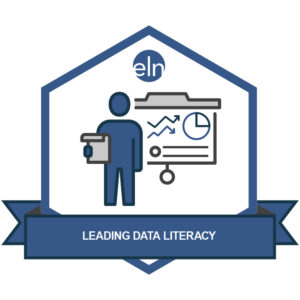 Professional Development Credit – This micro-credential may be eligible for continuing professional development credit in your state. Contact your state affiliate association to learn more.
Overview – The Leading Data Literacy micro-credential requires that the practitioner demonstrates proficiency of all the essential outcomes and the research-based sub-skills defined in the details. These include a collaborative process and a commitment to continuous improvement at all organizational levels based on informal and formal data; provide support, resources, and on-going training for all stakeholders to build personal skills in effective and meaningful data use; and provide for a collaborative, detailed for ongoing monitoring, analysis, and use of data for continuous organizational improvement.
Essential Outcomes – Leading Data Literacy Micro-credential identifies five essential outcomes:
Collaboratively develop a commitment to continuous improvement through data, both formal and informal at all organizational levels.
Provide support and resources for all stakeholders to build necessary knowledge and skills for effective and meaningful data use.
Possess and demonstrate effective personal data analysis skills.
Provide tools and protocols for the ongoing monitoring, analysis, and use of data for continuous organizational improvement.
Provide a plan with strategies, implementation timelines, evaluation, and monitoring process to establish best practices in leading data literacy for organizational improvement.
Requirements
Part 1. Overview Questions – Create a responsive narrative that answers the following questions (1,000-word minimum):
What professional development opportunities are in place for teachers and staff members to learn how to talk about and use data effectively?
How do you ensure that you model effective data analysis skills?
What protocols have been developed for your teachers and leadership teams to follow when reviewing student data and making decisions to improve instructional opportunities for all students? What measures are in place to ensure the effectiveness of these practices?
How did you ensure that the data your stakeholders needed to make accurate, data-informed decisions were aligned to school improvement plan goals?
How did you establish ongoing monitoring of your improvement plan? Who did you involve and how did you communicate midcourse adjustments to all stakeholders?
Part 2. Skill Demonstration Product with Self-Analysis
Develop an artifact portfolio that captures the essential outcomes for the Leading Data Literacy micro-credential and complete the evidence self-analysis.
For each EO detail you will be required to reference an uploaded artifact(s) and guide the assessor to the specific evidence (page number, video time stamp, etc.) within the uploaded artifact(s).  An explanation of how the evidence demonstrates proficiency of the outcome detail is also required.  The practitioner must clearly and compellingly demonstrate proficiency of every detail under each essential outcome.
Part 3. Reflection and Application
Submit, in writing, a summary of your experience of Leading Data Literacy (500-word minimum) to highlight and provide specific examples of how you applied the five components of Leading a Data Literacy Culture.  This could include topics covered and other relevant information which demonstrated competencies.  Include a reflection about the impact of this skill on your professional practice and how you will continue to apply it in the future.