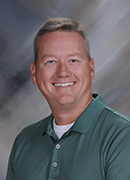 Adam Geisen
Instructional Technology Coach
Triad Community Unit School District #2
203 E. Throp Street
Troy, IL 62294
About
Adam Geisen has been in education since 2000 and taught high school English at Triad High School in Troy, IL, until 2017. His role recently changed as he became one of two Technology Integration Coaches in his district. Since then he has become a Google Certified Trainer and was a member of the LAX18 Google Innovator Academy in 2018. Adam has helped many of his staff members become Google Certified Educators. He also co-created an innovative individualized PD program in his district and a Google Certification game to help teachers in his district and districts around him get more Googly. Adam has presented at numerous conferences in the Midwest including the Directions Conference, METC and ICE in 2018, and is scheduled to present at numerous education and edtech conferences in 2019.
---
ELN Courses
Personalized Professional Development
---
Educational Expertise
Personalized Learning
Technology
Professional Development
Google Apps for Education
---
Workshops
"Getting Started with Google Script" and "How we Gamified our Google Certification" at the METC Google Extravaganza,
"Personalized PD: Badges, Danielson, & SAMR, Oh My!" at the Directions Conference in 2018, METC18 and ICE18.