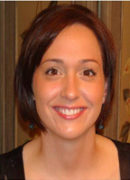 Jessica Kerr
SIUE School of Pharmacy
200 University Park Drive
Suite 1126-B
About
Jessica L. Kerr, PharmD, CDE – Associate Professor at Southern Illinois University Edwardsville School of Pharmacy and Clinical Pharmacist at the Belleville Community Based Outpatient Care Clinic within the St. Louis Veterans Affairs Medical Center.  Dr. Kerr received her Bachelor of Science in Pharmacy and Doctor of Pharmacy from St. Louis College of Pharmacy.  Dr. Kerr has been a Certified Diabetes Educator since 2004.  She currently is the President of the Madison County Community Council of the American Diabetes Association.  Dr. Kerr works with other health care professionals and local organizations to provide access to diabetes care to patients within her area.  She is a consultant to many schools within the central and southern Illinois area to provide education to staff about diabetes and how to manage care within the school systems. During the 2011-2012 year, Dr. Kerr will be assuming the role of chair of the American Association of Diabetes Educators Community of Interest Pharmacy Group.
---
ELN Courses
Opioid Overdose Management in the School Environment
---
Educational Expertise
Opioid Overdose
Diabetes
---
Publications
Hofstetter A, Kerr JL. Bariatric Surgery for the Treatment of Type 2 Diabetes Mellitus: What are the options? US Pharm. 2011
Kerr JL. Diabetes mellitus. In: Sutton SS, editors McGraw Hill's Naplex Review Guide. New York: McGaw-Hill; 2011 p. 511-527.
Kerr JL, Timpe EM, Petkewicz KA. Bromocriptine mesylate for glycemic management in Type 2 Diabetes Mellitus. Ann Pharmacother. 2010;44:1777-85.
---
Workshops
Medication therapy and Guideline Review
Ambulatory care ways to improve patients with diabetes outcomes
Documenting and communicating
Diabetes Cases
Key concepts of hyperlipidemia
---