Operational Systems (MO)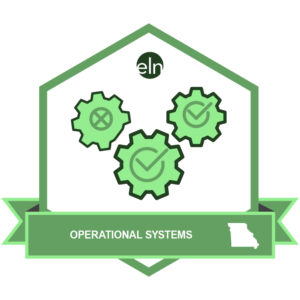 Overview – The Operational Systems micro-credential involves the principal's ability to demonstrate the effective and efficient management of the school's operational systems by ensuring that: all operational systems are well managed; routines, procedures, and schedules have been established for staff to manage, monitor, and guarantee compliance; and effective use of all school operational systems is maintained.  Further, the principal: demonstrates that those structures and collaborative processes support and ensure oversight of school safety, resources, facilities and grounds; monitors and ensures compliance of requirements at the federal, state, and local levels; and provides a plan that establishes and monitors best practices in operational systems which drive organizational performance and high-quality student learning and growth
Essential Outcomes – Operational Systems includes the following four identified essential outcomes:
Provide structures and processes that support and ensure the efficient and effective oversight of the school facility and grounds.
Collaboratively establish routines, procedures, and schedules for operational staff that aligns and leverages system processes to drive organizational performance.
Monitor and ensure compliance with operational requirements at the federal, state, and local level.
Provide a plan with strategies, implementation timelines, evaluation, and monitoring processes to establish best practices in operational systems.
Requirements
Part 1 – Overview Questions
Develop a responsive narrative that answers the following questions (1,000-word minimum):
What are the oversight structures and processes you have in place to ensure school cleanliness, physical condition, and safety matters is efficient and effective?
How does the school principal provide communication, routines, support, and schedules for operations staff to maximize organizational performance?
What is your procedure for ensuring compliance with federal, state, and local regulations?
What is your continuous improvement plan for cleanliness, safety, and physical condition of the school facility?
Part 2 – Skill Demonstration Product with Self-Analysis
Develop an artifact portfolio that captures the essential outcomes for the Operational Systems micro-credential and complete the evidence self-analysis.
For each EO detail you will be required to reference an uploaded artifact(s) and guide the assessor to the specific evidence (page number, video time stamp, etc.) within the uploaded artifact(s).  An explanation of how the evidence demonstrates proficiency of the outcome detail is also required.  The practitioner must clearly and compellingly demonstrate proficiency of every detail under each essential outcome.
Part 3 – Reflection and Application
Submit, in writing, a summary of your experience of Operational Systems from the Managerial Leadership stack (500-word minimum).  Highlight and provide specific examples of how you applied the four components of Operational Systems.  This could include topics covered and a description of the process used to promote proper, effective, collaborative and compliant operational systems.  Include a reflection about the impact of this skill as you continue to apply it in the future.