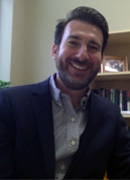 Terry Lilley
Assistant Professor
Dept. of Women's, Gender, and Sexuality Studies
University of Wisconsin
4304 Centennial Hall
1725 State St.
La Crosse, WI 54601
About
Terry Glenn Lilley is an Assistant Professor in the Department of Women's, Gender, and Sexuality Studies at the University of Wisconsin-La Crosse. He has a Ph.D. in Sociology from the University of Delaware and his research focuses on issues of inequality and justice including violence and violence prevention, victims' rights and other social movements, poverty and public policy, and knowledge production.
---
ELN Courses
---
Educational Expertise
School Safety
Sexual Abuse
---
Publications
Piccigallo, Jaqueline R., Terry G. Lilley, and Susan L. Miller (2012) ''It's Cool to Care about Sexual Violence'': Men's Experiences with Sexual Assault Prevention". Men and Masculinities, 1097184X12458590, first published on September 9, 2012.
Lilley, Terry G., Joel Best, Benigno A. Aguirre and Kathleen S. Lowney (2010) "Magnetic Imagery: War-Related Ribbons as Collective Display". Sociological Inquiry 80 (2): 313- 321.
Lilley, Terry G. (2009) "Sensationalism". The Praeger Handbook of Victimology, Wilson, Janet K. (Ed). Santa Barbara, CA: Praeger.
---